Caron Le Cafe 100% High Altitude Arabica Coffee 10 Capsules for Nespresso
€4.00
The Caron roastery's signature blend contains four high-quality Arabica varieties, grown on exceptional terroirs and picked by hand.
The Huehuetenango from Guatemala brings force and character. The coffee trees benefit from being grown in volcanic soil.
The Moka Sidamo of Ethiopia brings a fullness and length in the mouth. This coffee, when roasted, develops flavours of straw, toast, and pine nuts, with a touch of acidity.
The El Capitan of Nicaragua brings a note of acidity. This coffee has a balanced sweetness with notes of fruit and caramel.
The Brazil from the Cerrado region brings balance. Due to the defined seasons experienced in this region, the coffee cherries mature slowly, giving a balanced character to the roasted beans.
These capsules are developed for the Nespresso® *, Essenza® *, Pixie® *, U®, Maestria® *, Citiz® * and Inissia® * systems.
* Brands belonging to a third party having no link with Cafe7.
13 in stock
Description
Caron Le Cafe 100% High Altitude Arabica Coffee 10 Capsules for Nespresso
Delivery & Collection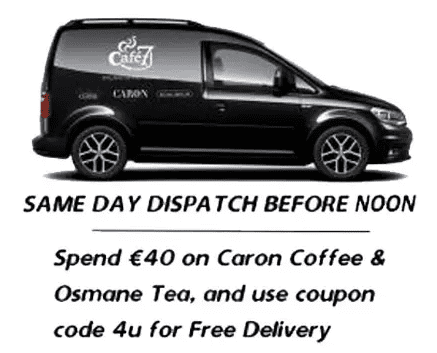 Republic of Ireland Delivery
Deliveries are made by An Post, DPD, UPS, and Fastway.
It generally takes 2-3 working days for delivery (this is a guideline).
Republic of Ireland Delivery Charges
Flat rate of 5.50 EUR.
Free delivery on coffee and tea (minimum purchase of 40 EUR is required).
Collect free of charge from our warehouse in Galway.
Only logged in customers who have purchased this product may leave a review.